SRI SANJEEVIRAYAN TEMPLE, IYENKULAM, KANCHIPURAM, TAMIL NADU…
Sanjeevini Peetam 61 st Hanuman Chalisa Engraved Stones Prathishta 2-10-2016 @ Hanuman Main Deity – SRI SANJEEVIRAYAN TEMPLE, IYENKULAM, KANCHIPURAM, TAMIL NADU… — at Ayyangarkulam.
The Largest Circulated SAKSHI Telugu Daily News Paper 4-10-2016……..Bhagavath Geetha Cultural Hall Bhoomi Pooja News
The Largest Circulated EENADU Telugu Daily News Paper  5-10-2016……..Bhagavath Geetha Cultural Hall Bhoomi Pooja News
[nggallery id=359].
96.Malai Mohan (Moganadass Purnshatman)Gift Album To Hanuman Mathaji 7-9-2016

95.Honey Abishekam 2-10-2016 Special Thanks To (Video Taken)T. R. Ramadas

94.Chandana Abhishekam 2-10-2016 Special Thanks To T. R. Ramadas

93. Tail HanumanTemple,Brickfield,Kuala Lumpur, Malaysia@Mathaji
61 st Hanuman Chalisa Engraved Stones, Handover to Temple by Sanjeevini Peetam (Ayyangarkulam Sanjeevaraya Hanuman Temple of Kanchipuram towards Vandavasi / Cheyyar 25-9-2016)……Inauguration date 02-10-2016. & Punarvasu Nakshathra Special Pooja for Yeri Katha Anjaneya swamy…..(Today) Jai Bhajaranga bali
 Nettoor koti kanyadhana lakshmi kumara Thathacharyar
During 1585-1614 AD, the kingdom of Vijayanagara was under the reign of Sri Venkatapathi Maharaj. Nettoor Sri Thathacharyar was one of his ministers, and he was well versed in state administration, and had established many temples in provinces where he was administrator in-charge. He is popularly known as "Nettoor koti kanyadhana lakshmi kumara Thathacharyar". There is a saying in Tamil that even the king will become a destitute person after getting his five daughters married. But Sri Thathacharyar was instrumental for one crore i.e., one hundred laksha [one laksha is one hundred thousand] marriages performed. It was possible for him to conduct that many marriages, since he had the blessings of Lakshmi Devi ,the Goddess for wealth. Hence he was considered as son of Goddess Lakshmi Devi and was called Lakshmi Kumara. He is also known as "Ubaya vedanthaachar", for he had established many temples.
Forefathers of Sri Thathacharyar
Sri Thathacharyar hails from an illustrious family, and is a descendent of Thirumalai Periyanambi. It is said that one of his forefathers left his native place Nettoor to Aanaikunthi (Anakot) the then capital of Vijayanagara samrajya, to receive presents from Sri Veerupaksha the king of Vijayanagara. On reaching Aanaikunthi the person visited the palace and expressed his wish of offering discourses on Maha Bharata. With the King's permission he gave discourses on Maha Bharata for eighteen days. On the concluding day he was given gold coins and other presents. The next day he was astonished to see that there was no palace and others in Aanaikunthi. He was unaware of the fact that Sri Veerupaksha had shifted his capital from Aanaikunthi to nearby Hampi. On hearing the Mahabharata discourses the spirits, of those who lost their lives in the war that was fought at Aanaikunthi before shifting the capital to Hampi, had attained moksha.
Temple for Lord Anjaneya
Sri Thathacharyar, who was a descendant of such mahapurush, had built a beautiful temple for Lord Anjaneya near Kanchipuram. Normally a temple for Lord Anjaneya will be having a small Gharbhagraham and a large hall in front of it. But the temple that Sri Thathacharyar built for the Lord Anjaneya is unique in many ways. If you take the route from Kanchipuram to Kalavai just after crossing the river Palar the first village to be sited is Iyankulam. The temple is situated in Iyankulam and one could see the temple from a distance itself.
Unique temple in many ways
Instead of constructing a small tank for the temple as normally found he had constructed a big lake measuring 136 Acres. The temple had been constructed in such a beautiful way that if seen from the lake, the temple will look as if it is floating in the lake. The water from this lake was used for irrigation also. There are steps made of granite around this lake. It is said that while the lake was under construction, Lord Anjaneya Swami himself had come and helped by digging in order to complete the job in time.
Biggest Anjaneya Temple of the Bharat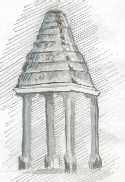 On the south bank of the lake he had constructed the temple for Hanuman. The Rajagopuram is facing the tank. Unlike the other temples, to enter this temple one has to pass through a large mantap which has twenty four pillars with beautifully engraved forms of Lords and Acharyas. This mantap besides being built with unique architectural details also served as a comfortable place for pilgrims to stay. There is an entrance to the temple from the southern side as well where also a large mantap has been built for the pilgrims to take rest.
Lord Sanjeevi Rayar
As normally found in Vijayanagar architecture here also one could see four small mantaps, with the beautiful cupola over the four tall pillars made of a single stone on all the four sides of the temple which adds to the majesty of the temple building. As one enters through the Rajagopuram he gets into a very big hall with the roof painted artistically, and at the end of the hall is the main sanctum sanctorum of Lord Sanjeevi Rayar, the Anjaneya. Lord Sanjeevi Rayar is seen with anjali-hasta. There is conch and chakra in the backdrop of the deity. With the glowing eyes Lord Sanjeevi Rayar is blessing one and all who approach Him with piety.
Mahalakshmi at the sanctum
Just before the entrance to the sanctum of Lord Sanjeevi Rayar, one could see Sri Mahalakshmi on the right side. Sri Thathacharyar was an ardent devotee of Sri Mahalakshmi and had installed the deity of Sri Mahalakshmi at the north end of the lake in the 'natabavi' also. There are inscriptions in the walls of the temple giving evidences, that many traders from far-off places like Subatra, Siam had contributed their might for the up keep of this temple.
Temple Festivals
There are two mantaps, one at South-east corner and the other at the North-east corner. During Sri RamaNavami the 'uthsava moorthi' of Lord Rama and Sita devi are placed here and the marriage function of Lord Rama and Sri Sita Devi is celebrated with gay and gaiety, which is witnessed by Lord Sanjeevi Rayan also. Kanchipurm Sri Varadharaja Perumal visits this temple on the full moon day of the Chitra month of solar calendar.
---
Lord Sanjeevi Rayar the Sita Lakshmi suthan is ever ready to bless one and all with His Lakshmi Kataksham in this kshethra.